違法駐車に潜む現代病
2016.07.06.01:03
前書き
-1
:
Preface-1
「ジャイカ:JICAって何の略?」:What does JICA stand for?
…答えは一番下にございます。Scroll down to the bottom to see this answer.
★🌙★★★★🌗★★★🌑★★★★☀♪
違法駐車の背後に潜む現代病
Modern Diseases behind Illegal Parking
★🌙★★★★🌗★★★🌑★★★★☀♪
前書き-2:Preface-2
7月4日(日)、シカゴ生まれの、私の旧友W教授と電話でお話しできました。普段はメル友での情報交換ですが、声でのおしゃべりはまた格別でした。このブログを読んでいらっしゃるので、電話でお話しなかったことを、彼への手紙形式風に書かせていただきます。
Last Sunday, July 4th, I could chat with one of my best old friends, Professor W. born in Chicago, USA on the phone. We're usually exchanging e-mails, but directly calling this time was something *exceptional or *groovy. Since he is one of the readers of this blog, let me write this blog as the letter to him, too.
*exceptional [eksépʃ(ə)nəl]:(a) 例外的な、まれな  *groovy [grúːvi]:(a) かっこよい、素晴らしい
この怖い火事は、2009年9月5日深夜発生しました。M魚屋さん老夫婦が焼死しました。よく観察なさって下さい。LLシホヤ新井教室の1階床に消防車のホースが見えますね。表通り:志保屋書店店頭から裏のLL菜園へホースを延ばしてM魚屋さんの出火場所だった2階台所付近に放水しています。-つまり、深夜の上町駐車場が満車で、消防車がそこへ入れなかったのです。上町駐車場の両脇には、2本の消火栓が立っているのに、使えなかったのです。-20分放水が早ければ…と、悔やみます。
This terrible fire occurred at the nearest house to ours after midnight on September 5th, 2009. M-fish store old master and his wife *perished in the flames. Look at these two pictures carefully. – You can see some fire hoses lied on the floor under LL Shihoya Arai School. They were placed from the main street in front of Shihoya Bookstore to our backyard, LL-garden. Several firemen were hosing to the first burning place, M's kitchen on the 2nd floor. – What I'd like to say is that even only one fire engine couldn't enter Kanmachi Parking Lot at all because it was full of illegal parking cars. Though two fire *hydrants stand on either side of Kanmachi PL, fire fighters weren't able to use them. If hosing were twenty minutes earlier … I'm still sorry for the couple.
*perish [pérɪʃ]:(vi) 死ぬ、消滅する  *hydrant [hάɪdrənt]:水道栓、消火栓
LLシホヤ新井教室の駐車場の隣にある「上町駐車場」の使用時間は、数十年前から、9:00 am – 8:00 pm と表記してありますが、例えば、この火災の後の、2012年1月12日、7:30 am 、すでに満車になっています。夜間駐車も数台ありましたから、夜中の3:00 am頃の除雪車による排雪も十分できませんでした。
The time-to use of "Kanmachi PL" has been noticed from 9:00 am to 8:00 pm since some decades ago. However, e.g. look at this picture taken at 7:30 am, January 12th, 2012; it is already full of cars. There were also several cars left through the night, therefore a snow plough car couldn't remove snow enough; it tries to enter around 3:00 am in snowy days..
2012年6月21日、8:30 amも満車です。季節と時間を問わず、「空いているから使う」、「出入り口のチェーンが邪魔だから、ペンチで切って脱出する」、「両脇の花壇を踏みつぶして、車で脱出する」、「家庭ごみの袋、吸い殻の山や、飲みかけの缶を置いてゆく」…。
This picture taken at 8:30 am on June 21st, 2012 also shows the scene full of cars. Regardless of seasons and time, some "use it because there's room to park", "cut the chain with pliers when leaving there", "the *gateway locked, leave there crashing the blooms at the both sides of it by their cars", "put their home garbage bags, piles of cigarette butts, unfinished cans of soft drinks" … etc. and etc.
*gateway [ɡéɪtwèɪ]:出入り口
2015年11月20日は、私の「一人だけの市民権行使の初日」でした。
青いビニールシートは、「分別収集籠(かご)」です。収集車が収集して出て行った直後の8:00前に撮影しました。
7:00 am、すでに満車だったため、収集籠を上町駐車場内に設置できなかったのです。ごみ当番の2名の主婦が、「シホヤさん、何とかなりませんかね?」-上町町内会長の仕事なのだと思いますが、元来、この駐車場の施錠管理と清掃は、十数年前自然消滅した「上町商工会」に委託されていましたので、数年前までは、施錠管理も清掃も近隣の篤志家が自主的に行ってきたのです。
The day of November twentieth, 2015 was my "first day of exercising civil rights alone". The blue-colored sheet is covered over "the sorting collection baskets". This picture was taken before 8:00 am just after a dust collection truck had left there.
That morning, at 7:00 am, Kanmachi PL had already been full of cars, so two women in charge of setting the basket couldn't do. They begged me saying, "Mr. Shihoya, what should we do? Do you have a good idea?" – I bet anyone would think that this kind of *direction should be done by a chairperson of Kanmachi neighborhood Association, but originally the job of locking-unlocking and cleaning had been *consigned ex-"Kanmachi Commercial and Industrial Association" by our City; this association was *imperceptibly *dissolved ten-odd years ago. So locking-unlocking and cleaning were being done *voluntarily by a volunteer until a few years ago.
*direction [dɑɪékʃən]:方向、指示  *consign [kənsάɪn]:(vt) 管理を委ねる、委託する  *imperceptibly [ɪmpəˈseptəbli]:(ad) かすかに、気づかれないうちに  *dissolve [dɪzάlv]:(vt) 融解する、解散する  *voluntarily [vὰləntérəli]:(ad) 自発的に、自由意志で
経験上、大雑把に、違法駐車の約80%は郵便局職員の通勤自家用車、10%は市役所職員、残り10%はその他だということは、近隣住民はわかっていました。たまたま、満車状態の中に、胸にIDをぶら下げた郵便局役職員が侵入してきましたので、「使用時間を守らせなさい!なにが『地域のための郵便局か!』と一喝しました。
その朝は、白い車1台だけになりました。-
「嵐の始まりの終わり」だということは、覚悟していました。
As far as we had experienced until then, roughly speaking, most neighborhoods knew what kinds of people had parked out of the limited time; the car of Arai Post Office workers was 80%, one of Myoko City officers was 10% and the rest 10% was the others'. Luckily for me and unluckily for him, as one of directors wearing his ID-card trying entering there, I gave a roar saying to him, "Make every worker keep the rule immediately! It must be ridiculous that "Arai Post Office work for the good of this community!"
That morning after my first action, only one white-colored car remained.-
I of course understood that day was just "the brief end of the beginning of storm".
11月20日以降、雨の日も風の日も、エリーと一緒に、7:00~9:00 amの約2時間、「時間を守ってください!ここから歩いて1分先の、ふれあい会館南側に時間制限なしの駐車場が開いています!」の連呼の毎朝となりました。しかし、中には…
「あんたの土地じゃないでしょう!」、「訴えるわよ!」等から、胸ぐらをつかまれて、「生意気だ!」まで…ふ~。
この表示も変ですね。
「もう3月は過ぎてるぞ!」、「今は夜間じゃないでしょ?」、「市長選挙に出るための売名?」…
I've been standing in Kanmachi PL with my pet dog, Erie windy, rain or fair from 7:00 to 9:00 am since November 20th; saying the car drivers entering before 9:00 am, "Keep the limited time, please. There's another bigger parking lot that way. It's in front of Fureai Hall, free-use and only 1 minutes' walk from here." I was saying this words to each every morning, but…
Some *lashed out against me saying like "this land is not yours!", "I will sue you!" , my collar being grabbed, "You are *saucy!"… Phew!
The word on this notice-board is really strange, isn't it?
"It's already after March!", "Is it not in the night, is it?", "Your act must be self-advertisement running for next *Mayoral Election!"…
*lashed out against~:~に食ってかかる、暴言を吐く  *mayoral [méɪərəl]:(a) 市長の  *saucy [sˈɔːsi]:(a) 生意気な、いかがわしい
気ままに駐車できなくなった人たちが、市役所に苦情を告げたのでしょう。ある日、表示板の駐車時間部分にマスキングテープが張られました。やむを得ず、市長に相談しました。
2015年12月14日、そのテープを所管職員が剥がしています。
職員は、苦情を言われた通りに動くのではなく、物事の根本を考えてから行動しましょう。
Some people given my warning brought their compliments to Myoko City Office, I guess. – One early morning, I was surprised to see the notice-board, in which the line of the limited time: 9:00 am - 8:00 pm was covered with masking tape. I had no choice but to immediately visit Mayor.
This picture shows the staff of City Hall is removing the tape on December 14th, 2015.
I believe the staff shouldn't act quickly as the complainers' requests, but should do after thinking the *essence of each problem.
*essence [ésns]:本質、根本
雪が解けても、エリーと一緒の2時間の警告は中止できませんでした。掲示板記載の「除雪のため」などの条件が駐車時間表記と矛盾していたからです。
でも、このように、たまには、注意しなくてよい朝もありました。
Though after snow melted, two hours' warning with Erie couldn't stop. The words of "For Removing Snow" *contradicted the time limited on the same board.
A dog has his day. – like this picture.
*contradict [contradict]:(vi, vt) 矛盾する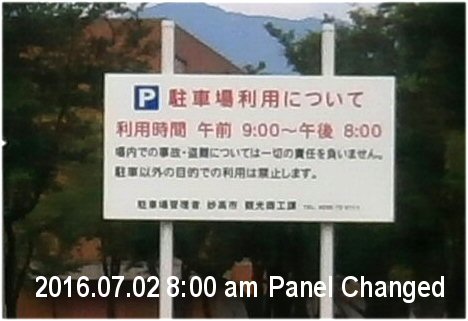 2016年7月2日(土)早朝、やっと、このように、すっきりわかりやすい表記になりました。
In the early morning before 7:00 am, the notice-panel was changed into this new one, which has simple words.
7月3日(日)は、8:10 am~「防災訓練」がありました。点呼をとっているところです。
「大人が大人を注意する」行動は、言語を絶するほどに難しいものです。嬉しいことに、ここに参集した大半の上町住民の皆さんが、私と目を合わせ、にこやかにお辞儀なさって下さいました。
Last Sunday morning, July 3rd, from 8:10 am, "Disaster Drill" was held. The chiefs of Kanmachi Neighborhood Association are counting the number of attendants there.
It is indeed very difficult that "Adults warn adults", which is beyond common imagination. But, to my joy, most participants there gave me his/her warm smile looking at eyes each other. Some of them made a bow to me.
実は町内会組織としてはできにくい、まだ別の難問を数名のご婦人たちから頼まれています。「この芝生に除草剤を散布するのを止めさせて!」-勤研センターと上町駐車場の間にある芝生公園のことです。
I've still got another problem being asked by several women, that a system of Neighborhood Association only couldn't solve easily. That is … "Have Myoko City stop scattering weed killer over this lawn!" – This small park is located between Kin-ken Center and Kanmachi PL. Icall this "Lawn Park".
「波風立てずに、お上(市役所)の言う通りに!」…目先の見栄えの良さ、便利さだけで人は動きやすいものです。
「人に褒められたければ、黙っていることだ。何かを成そうとすれば必ず悪口を言われる。だが、わしはやる!」(田中角栄) -さて、私に、この除草剤散布中止とその代案(すでに腹案あり)を市民レベルで実行してもらえるかな?
"Look for a big tree when you seek shelter!"… We are apt to move looking for something looking nice and just a convenience.
"If you want to be spoken well by others, you should keep silent. Whenever you do something great, you'll be showered *abuse; but I will do!" (Ex-Prime Minister, Tanaka Kakuei) - Well, could I act in order not to have the City quit using weed killer with many citizens? Actually I've already got a plan ready in my mind.
*abuse [əbjúːz]:(n) 乱用、虐待
「臭いものに蓋」を続けていては、良い子、LLシホヤ新井教室の生徒の指導はできません。しかし、皮肉なことに、親を注意すれば、生徒が減少するジレンマが顔を覗かせています。
「使える英語力を身につけるために、英語でイキイキパワーを育みます。」のLLシホヤ新井教室の理念を貫いて42年目、66歳!
"Cover up what smells bad." In this proverb, there's no positive instruction at all to my students of LL Shihoya Arai School. But ironically, if I pay attention to my students' parents, the number of recruiting is decreasing, which is a kind of *dilemma.
The idea of my LL Shihoya Arai School is "Hope You will be Vivid in Your Life through Learning Powerful English Communication" – Forty-two years have passed keeping this motto since opening my LL School. My age is now sixty-six!
*dilemma [dɑɪémə]:ジレンマ、板挟み
W教授、以上が、私の近況報告です。また、お電話お待ちしています。ここしばらくは、7:30-8:30 amが、駐車場の立哨、8:30-9:00が朝食ですので、できれば、9:00-10:00 amに。土日は大抵、8:00- 12:00 am、電話に出られますよ!RとLL菜園の世話をしていますから。
お元気で! 遠藤由明
Dear Professor W, this is my update. I'm looking forward to your calling again. My schedule these days is that the tie of standing in Kanmachi PL is from 7:30 to 8:30 am and eating breakfast is until 9:00 am; so would you call me during the time of 9:00 to 10:00 am? On weekends, I'm sure to receive your calling from 8:00 am to noon, because R and I are taking care of LL-garden.
Sincerely yours and best,
Yoshy (Yoshiaki Endo)
Tel: 0255-72-2025
∮♪#♪♭♪♬♪♫♪∮♪#♪♭♪♬♪♫♪
実用英語教室・

LL

シホヤ新井教室

!
体験レッスン常時受け付け中!
3歳児~小、中、高校生はもちろん、国籍や年齢、英語力不問:成人様、英語科教員等も対象です。英検準1級クラスまでございます。
お気軽にお問い合わせ、お申し込み下さいますようお願い申し上げます。
If you need more information, call LL Shihoya Arai School:お電話、イーメールでのお問い合わせ(日本語、英語:OK) は、For inquiries by phone or e-mail in English or Japanese:0255-72-2025 or click: メールにてお願いいたします。(個人情報保護機能付き:Personal data in this e-mailing is protected.)
2016年度募集要項は、HERE:ここを クリックなさってください。
最新の「LL Shihoya News」は :The latest "LL Shihoya News" is available to read by clicking:HERE:ここを クリックなさってください。
∮♪#♪♭♪♬♪♫♪∮♪#♪♭♪♬♪♫♪
Welcome to

YEA

of M-

P

E

C

「月例講座」

!
The year of 2016 is the 10th Anniversary of M-PEC! 2016年度はお陰様で10周年!
(講座の1週間前までにブログや下記のサイトで)、活動過去記録等のご紹介は、Information of YEA : Yoshy's Monthly English Activity, Records of "M-PEC" ( + Advance Billing is going to be written by a week before the DAY in both this Blog and the site below.), etc.: by clicking:Here:ここをクリックなさってください。
初めての方大歓迎!年会費は徴収していません。資料代の500円のみ。
Welcoming to the first visitors, too! You pay 500 yen as a monthly material fee only.
7月9日(土), July 9th (Sat) Lesson at 7:00-9:00 pm、LL教室で:お問い合わせとお申し込みは7月7日(木)までにお電話、イーメールでのお問い合わせ (日本語、英語:OK) は、For inquiries by phone or e-mail in English or Japanese until July 9th:0255-72-2025 or click: メールにてお願いいたします。(個人情報保護機能付き:Personal data in this e-mailing is protected.)
Reading Picture Books _/_/_/_/_/_/_/_/_/_/_/_/_/_/_/_/_/_/_/_/
Welcome to RPB

「えいご絵本をえいごで」

!
毎月第2(土) 10:30-11:30 am at よりみちCafé in 志保屋書店:ご予約不要、木戸銭無料、幼児から大人まで、お一人でも、ヨッシー紙芝居劇場へようこそ!
次回は、7月9日(土), 10:30-11:30 pm、よりみちカフェ in 志保屋書店
「ジャイカ:JICAって何の略?」:What does JICA stand for?
↓
↓
↓
↓
↓
↓
↓
↓
答え:Japan International Cooperation Agency
「国際協力事業団」(From Wikimedia Commons in English)
The Japan International Cooperation Agency (独立行政法人国際協力機構 dokuritsu gyōseihōjin kokusai kyōryoku kikōcommonly known by the acronym "JICA") is a governmental agency that coordinates official development assistance(ODA) for the government of Japan. It is chartered with assisting economic and social growth in developing countries, and the promotion of international cooperation.
略称JICA、ジャイカ)は、独立行政法人国際協力機構法(平成14年法律第136号)に基づいて、2003年(平成15年)10月1日に設立された外務省所管の独立行政法人。政府開発援助(ODA)の実施機関の一つであり、開発途上地域等の経済及び社会の発展に寄与し、国際協力の促進に資することを目的としている。
ホームページ:www.shihoya.com の目次には、(有)志保屋書店、よりみちCafé、LL英語教室、Myoko Powerful English Club (M-PEC)、英語の雑学…などたくさんの目次がございます。
Would you mind clicking the above URL, Yoshy's main Home Page? It includes lots of such interesting contents as Shihoya Bookstore, Café Corner, LL Shihoya Arai School, M-PEC, and Trivia in English, etc.
外部からの画像は、公開再使用許可済みのものです。
These exterior pictures attached here are permitted to public for reuse.
この拙い英訳ブログ作業はヨッシーの英語力精進と外国友人への近況報告のためです。常時、友人ネイティブ数名が検査して下さっておられ、誤表記の場合は即「訂正」記事を書いています。
This poor translation into English is for both brushing up Yoshy's proficiency and telling updates to my foreign friends. Yoshy's several foreign friends are always checking this blog; wrong expressions found, an article of "Correction" has been uploaded here.
英文中、英検2級レベル以上の語彙や表現には、* (星印)で注釈をつけています。
In this blog, Yoshy adds * (asterisk) at the vocabulary and expressions whose level are Eiken 2nd and over, and writes its explanation.
スポンサーサイト